Turn 24. There may be 2000enemy troops in this screenshot, but at least I killed 50gladiators with retreating scouts.
pythium has AT LEAST FOUR unforted temples... holy moly wish we could punish that!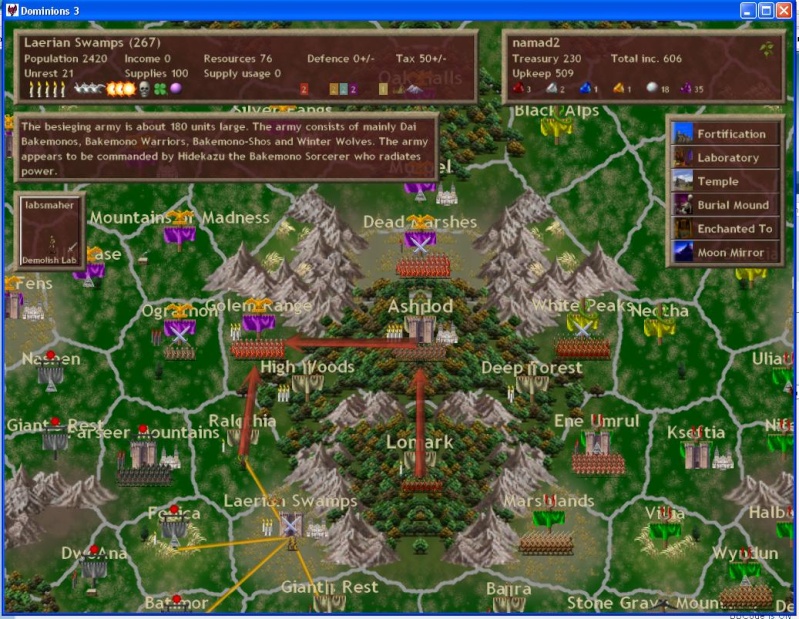 Forging a dwarf hammer.
It looks like with a small gold donations i might get one more adon next turn before they think to siege me?
below is rambling that I will hopefully edit later:
i can gear two more cr100 units i am thinking perhaps both should be fire adons? i could save the earth adon for a rime haubrek (so he can fit on winged boots?) and i can save the astral adon for when he wants to teleport?... 2units still retreating to my capital this turn to refit... one unit not in capital still planning to head east (maybe attack 285 with him alone?)... battle he is about to attempt might be suicide might not... i can send two more units out of my capital this turn or perhaps i can include them in the patrol to increase the odds i can recruit next turn? speaking of recruiting next turn... (i'll probably recruit a scout this turn? and i will probably lose provinces and therefore income.. and the screenshot is with my capital at 45unrest 100%tax so 100-200gold might buy me an adon or might fall slightly short... or maybe i'll not even be able to recruit)
forwarding my .trn to three people... it's an extremely simple .trn so you might as well at least look at any enemy troop positions it reveals?
also note are items in my lab... suggestions on which of my units to equip them to are welcome... although 2rime haubreks will probably clear out almost all of the items in my lab when i match them with gear for an adon..
it might actually be worth teleporting onto the hydras and retreating on round 3 just so they kill some of their own troops TWICE in one turn :-p haha
atul, machaka burned down the lab I was going to use, unfortunately, but it was a bit of a gamble as it was the only lab in range. Regardless, I think we should go ahead with the plan to drop on that army in White Peaks. It only contains one mage, so the chance of me losing even with a single harbinger is extremely slim. If you drop on 16 (1 PD) and 27 (has at most 20 units and PD), he's forced to retreat to 33. Then in the movement phase I attack 33 after his communion army has moved out. This will probably kill half his remaining units, and scatter the rest uselessly to 43 and to the prov his communion army attacks.
If you or someone else can also drop onto 43 (30 slingers/archers and PD), then the movement phase attack retreats his remenants to the same prov his communion army is in, which will itself have no Arco retreats. So next turn I hit that prov, and if he's smart I'm now chasing his army, but if he reacts the same way he has reacted in the past, he orders an attack on 33 and instead I fly into his prov and he dies.
Arco Front:
I can send in three guys to those three provinces if you don't find any other helpers.
I've currently got a situation near Caelum's capital, landed on a province right next to it with Silver Order and accompanying lab, Gatewaying in troops and a Vanadrott with Mass Flight scripted. As an added bonus that place allows me to recruit Shamblers, so after next turn I'm starting to contest the seas.
Also, I've located a nice secluded spot in Pythium's lands and my sneakers are in position. There's even a lab. Only minus, there's an arch theurg in there too so I'm waiting for some thug assistance there too.
...so much to do, so little time...

About items, I had an accidental battle with a machaka spider force this turn, and I realized I can probably take him on with harbingers unlike what I had originally thought. Seems even if the the harby is paralyzed or caught in a web, still never gets hit, and then it wins due to fear or breaking free. Its strange, because I thought webs were a str check to get free, but my troops are usually caught in webs for half the battle, whereas the harby shruggs them off really quickly. But I'll need poison immunity since the spiders have a death poison attack, so I'll need to free up a misc slot.

Right now my guys are:
brand / enchanted shield / horror helm / rainbow armor / empty boots / luck pendant / MR ammy

If I switch it to:
brand / lucky coin / horror helm / rainbow armor / empty boots / mr ammy / empty misc
I can use snake ring to cover poison, or another ring for whatever other immunities.


So ideally I'd have 2 Lucky Coins and 2 Snake Rings forged, a pretty low-priority upgrade, although one Coin immediately would be great since one of my harbies is missing his pendant. I think the boots will be ok empty for now, fatigue doesn't seem to be a factor. Later messenger, birch or quickness boots could be added. If only there was a way to up MR even more, every little bit helps against Soul Slay spam.
Like i was saying before i could really use some lucky coins too.. fire adons cannot buff protection or mr so they start off a full two misc slots behind earth adons.... drp was saying he didn't have enough lucky coin forgers to do much? so should i send the crystal coin back to you this turn drp?
Forging a horror helm and luck pendant for myself, a dwarf hammer for the team.
Attacking dead marshes with two fire adons with: frost brand, birch boots, luck pendant, and dual bracers of protection (each).
also attacking 285 with an earth adon wearing: frost brand, dragon helmet, birch boots, luck pendant, antimagic amulet, bracer of protection... 22mr might be high enough maybe this unit should not buff iron will as the wasted turn/fatigue might be not worth it for the 26mr?
There are 16enemy commanders in that province but I think he can only cast at most like 3soul slays a turn ...(a lot of them aren't astral mages like I first thought).
However there is a fairly high chance he'll attack my capital this turn from two sides in which case ...
a) I fight half the army in the north and pray I win because I'll have no method of retreat or
b) I fight in the capital and my capital's pd and unrest patrollers rout me and I end up routing south.. or
c) I use a pair of winged boots or teleport somehow
now... the case a) where I don't leave myself anyway to rout sounds fairly awful... but... it's fairly unlikely my 2nonflying scs could rout alive anyways. Additionally it'd be easier to win the battle against half of his forces than all of his forces. If I don't attack one of his two armies then I'm CERTAIN to have to fight both at once soon.
oops the orders for the units got truncated well... the 2nd mage was just buffing iron will then spells and the third was a copy of the first.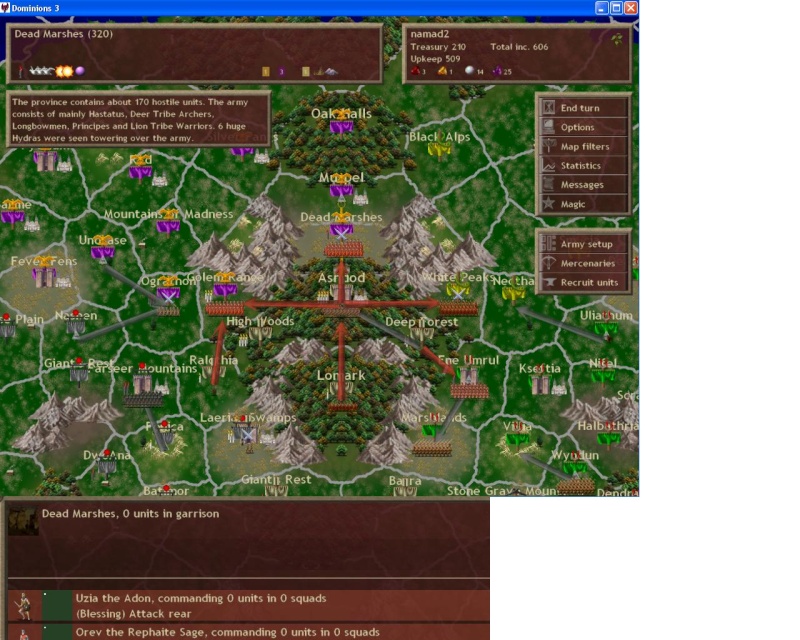 I'll email the .2h to all the email addresses I have
atul was giving me an idea... I could teleport to 320 and retreat on turn5 or 6 most likely safely back into my capital with either the s2 adon with crystal coin or one of my s3 guys with no gear fairly safely and kill a couple enemy troops with his own hydra....

this way even if he wisely separates the hydras from the army more loses will occur before he does?
I'm sieging 181 - we'll see if Ulm can do anything about it or not.

I'm attacking 193 with my eastern communion, we'll see how that does.

EDIT: Changed my mind. 193 is a horror trap, I think. I'm gonna try an intercept in 239.

I need to bring a second communion to this front before I can make any offensive progress.


Similar topics
---
Permissions in this forum:
You
cannot
reply to topics in this forum