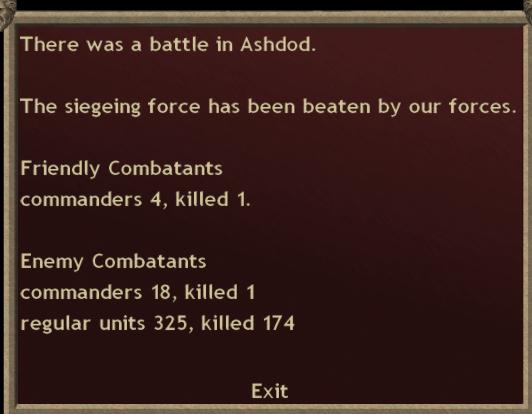 Turn 26. The siege of ashdod has been lifted temporarily, but I have no other provinces left to speak of, and dessertion has begun (should i try getting militia killed on purpose to help with dessertion? or just let them leave in the order they decide?)
I lost a naked e2 sage, the scs lived and held the field.
I should be able to field 4scs this coming turn, and more well equipped ones at that overall due to the new incoming items...
I still have more gear leftover and now it seems like the limiting factor might be bracers of protection.. hrmm
I'm going to email the three people whose emails I have a tentative draft of what I think maybe I should do for my turn...
please let me know if there is anything you think I should change, or send away, or make, or etc.
They are trying to preach me to death, my capital took heavy dominion damage this turn. This turn I am declaring a prophet, and having two h2 priests preach despite it probably having no effect(updates since I sent out the tenative .2h)... I might need to come up with a plan to raid pythium temples to stay alive. If van still has his foldhold maybe he can remove a few temples near where his foothold is located... after this turn, and the following turn... I will have researched phx pyre and perhaps could devote more priests to pointlessly preaching in my capital despite my capital having too high a dominion for it to take effect (as a stopgap stay alive measure)... if someone is an expert dominion calculator and they feel that I need to convert all my priests to preaching this turn or next turn before learning alt7 feel free to let me know, and I will.
Well I got 50-round routed in my battle at the fort, which was too bad because his largest squad had just routed and if they had made it off the field I would have been home free. I'm summoning up an angel of fury. Plans for the fort are undecided, but nearest I can tell, he can't touch my harbingers, so there's no reason not to send them in for another go. The question is should I gateway in troops (I can send in 250). Machaka is buffing his army with Arrow Fend and 50% FR, so even flaming arrowed troops backed by prison of fire won't have a great effect. My next research goal is fire storm to deal with this issue.
DrP, please forge me a Hydra Skin Armor. Did someone make the Amulet of MR and Luck Pendant? If not, I'll need one of each as well.
I got lucky coin x2 this turn(from drp) so... i can send you a luck pendant this turn if you'd like...



I need about 4bracers of protection plus the one I already have plus the one I am forging this turn to match up with the 3brands I have in my lab unequipped this turn.


Not sure if anyone has the earth gems or the earth mages.... feel free to look at my .trn for more information... (the hydras seem to be retreating because they are afraid of friendly fire? if that's true i might not ever need my snake rings?)


Tentatively this turn I am planning to hit 320 with 3geared fire adons and 329 with one geared earth adon... hopefully winning both battles and killing two temples... and having my capital sieged by shinyuma... then moving them all back to my capital to try relifting the siege... this is a farfetched plan but... if I don't kill a few temples it won't matter how many sieges I lift in the long run?... then again shinyuma's forces can just kill me far before my dominion runs out so maybe I should focus my efforts there? I could send my forces south in an attempt to fight half of shinyuma's forces at a time... but that may not work...

Is anyone forging me anything this turn or sending me anything this turn? I still have units worthy of gearing left.
My status is: surrounded.
I tried some risky gambits in the west against Ulm and against Pangaea.
The battle against Ulm went very poorly - I would've needed twice as many evocers as I had to make that work.
Battle against Pangaea was a loss, but I didn't have much there and my mages survived.
Making a gate cleaver, have 4 unassigned hammers, a chain of displacement, two starshine skullcaps and a winged shoes if people want stuff forged/sent.
My pretender got back and was promptly killed by Maker of Ruins, so lets let him rest now.
Caelum's twin forts are under siege, I'll concentrate troops on his capital so they'll just sit there kingdom come. Jotunheim did some small raiding, I'll try to steer clear of Marignon's troops so after TheDemon tells where that army at 52 goes I'll plot my way around it. Pythium's moving in to take provinces I raided, next turn he'll take an empty one, after that the one with a lab. I probably try to catch him with his pants down by gatewaying in at the last moment. Got the first seas from Abysia, moving on and recruiting second UW party.
I've got some offensive capability laying around. DrP asked for a strike against
Abysia
Pangaea, if there aren't other suggestions I might take it. I've got some A4 and A3 mages, as well as two teleporters able to do Summon EP - Gifts routine. They should be able to hit some location, build a lab and start getting troops in. Also, two turns to Fog Warriors.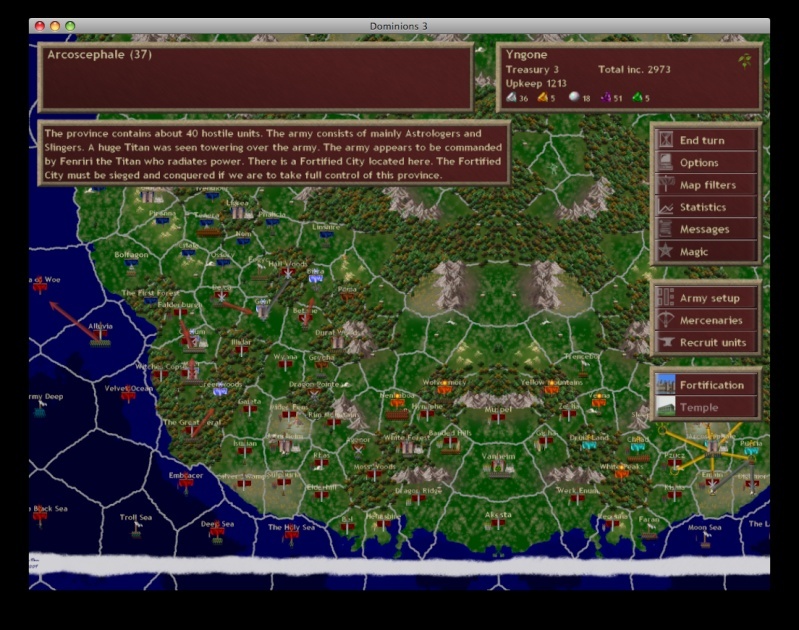 I could probably just send someone one of my wingged shoes as it's unlikely I'll need my 3rd anytime soon, eh? who was it for? (save you the trouble of making one this turn?)

If you can't find anything better to do with the hammers you can always just make me 4bracers of protection, you have just enough gems to do it

or something better +some bracer(s) or etc...

Also how do you have so many hammers? I don't recall sending you that many? did i just lose count?
after re-examining the scouting reports i'm worried pythium will try sieging from two directions again... jamming my movement north... shinyuma i know is more capable of winning but pythium still has more troop#'s in position it seems... hrmm dilema!


i have a burning pearl i got from indies i will probably never use, anyone need it?


i am submitting my .2h if anyone desperate needs to i guess they can edit and resubmit i might be too busy tomorrow to discuss things before host

(attacking 320 and 329 with 3 and 1geared adon respectively)
I think you saw this in IRC atul, but I'm attacking 54 on the Jotunheim front. I'll let you clean up the southern forces, and see if I can get a siege on Jotunheim's fort.


Similar topics
---
Permissions in this forum:
You
cannot
reply to topics in this forum