I'm starting to get some Ulm swarming love now, and Arco is next to my capital again. Retaking few provinces Jotunheim raided from me and defending from A and U. At least Ulm didn't attack properly last turn, now I've got Fog Warriors.
Found Machaka's enchanter-recruiting spot, wonder if Shamblers can take 'em?
I destroyed two temples this turn.
I lost an extremely powerful SC due to mind hunt, I think I need more antimagic amuleta. There were 4scs outside of my capital this turn during the mind hunt phase. The one without the antimagic amulet was the one killed. (he had 17mr because of pythium's magical3 scale)
Pythium lost 67troops 11commanders and two temples... but I lost a fire adon with 6items.... not a great turn for me... even with the three temples I've destroyed my dominion is still plummeting... I can research raise dead this turn though... so I think I'll give that a shot
Also, it should be clear for atul to take one of these labs and gateway. although I did foolishly built 5pd in 329.... curse me I should've built 1or2pd there.... 5pd means 5giants (1commander and 2of each of the two weakest types of troops that ashdod gets that are still bigger than humans) ... if atul can handle 5pd though the only pythium army in position would be attacking 340 this turn... so if atul took 329 this turn he could gateway in next turn and fight pythium
I actually had positive income this turn, perhaps we should try having someone send me a little gold this turn in case my 4scs are able to kill c'tis 240 troops and lift the siege for one turn... of course if they were smart they'd have the person who was sieging me retreat and have someone else siege me instead in a random fashion every turn...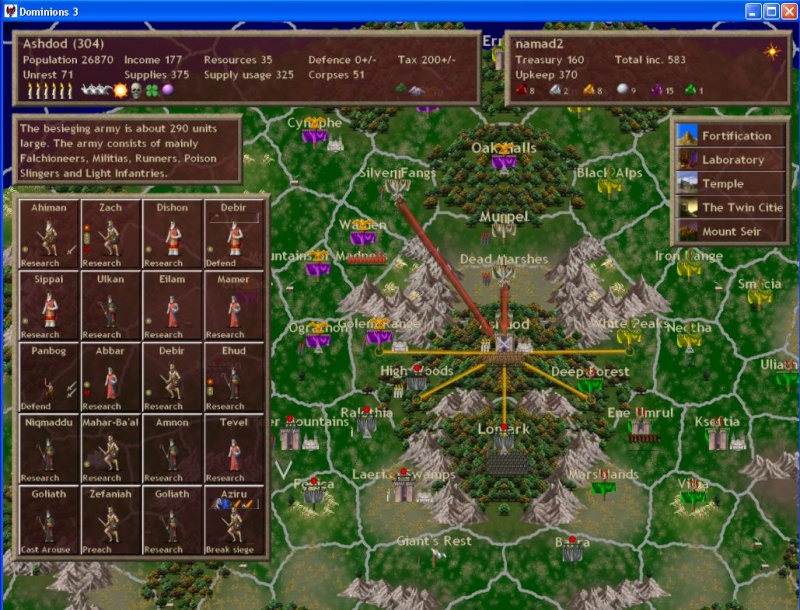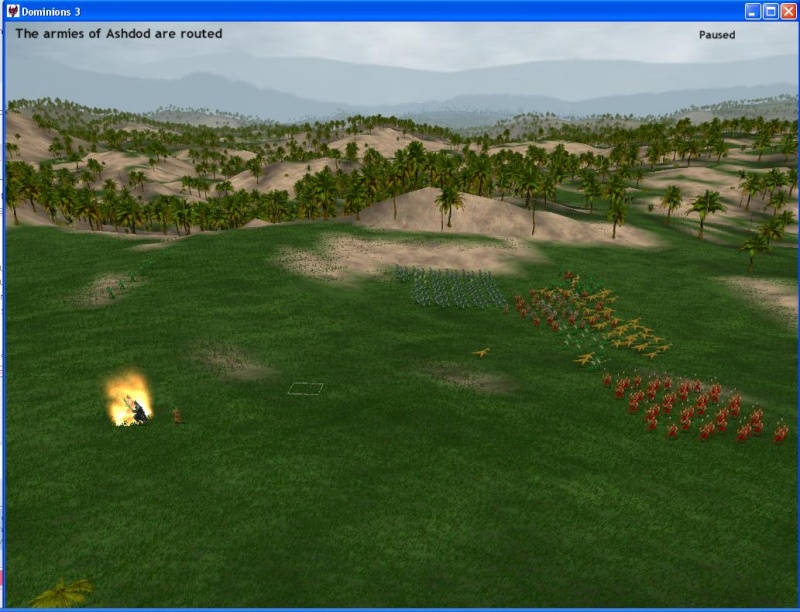 on another note eriu is down to 0provinces 1fort... I wonder if he has any gem income he's been unable to spend?
Last edited by namad on Thu Aug 13, 2009 9:24 am; edited 1 time in total
Catch me on IRC atul, we're going to need to talk over how to deal with that Arco army, among other things.
thinking about it some more... EVEN if this guy had MAX pen items (which he probably doesn't) taking out an mr17 unit with ONE MIND HUNT is INSANELY LUCKY god fuck shit damn kill ass...



on another note... what kinda gem stockpile and availability of hammers does drp have this turn?
I'm going to Krafwerk concert this evening so IRC time will be limited. 2-4 pm today and 4-5 am tomorrow GMT. Hope to catch you then, TheDemon. Sending you my .trn. If you can do something to that army it would help me a lot, but I can defend myself too.

Namad, I suddenly find myself stretched between enemy hordes, I'm not sure I can commit up north.
I could hit the army if we were able to predict where it would move. But there's no guarantee I'll be sucessful, and if I rout I'll need a retreat. Unfortunately I don't have a properly-sized magic phase attack ready, so I'll have to pretend I'm psychic and take a best guess. My current best guess is he'll hit your capital.

I'll do a sim and see if the Angel of Fury gives me a better chance than my harbinger squad did. He does have more MR and is generally a tougher customer.

Assuming I can't or don't intervene, what's your tactic for repelling that army/communion?
Patrol the cap. 80 or so units plus PD with fog warriors and mass flight. Can't gateway if I do it but I should be safe enough.

Edit: Maybe you should cut off their retreat?
I am going to hit my capital with 5well geared scs (including my prophet). I should only lose if raise dead spam turn50 routs me... as far as I can tell there is no army in position to cut me from routing... if the enemy was smart though they'd get a flying sc in position to do so... (I could leave one of my 5scs in an adjacent province to keep me safer against rout but this would lower my odds of lifting the siege this turn)

If you think I can lift the siege this turn someone should send me 100-200gold or so so that I can buy an adon (if everything goes according to plan I should have 250-350of my own gold and a free capital with 85-95unrest) also note this gold figure assumes atul doesn't take 329 from me.

if things go poorly I'll rout due to raise dead and have no rout avenue and lose hundreds of gems worth of gear and almost all of my good chasis..


thoughts?


also I am a pair of birch boots away from equipping another sc (although I suppose he could wear a rime haubrek instead), and a full set of gear away from yet another... also I need a couple antimagic amulets otherwise I am going to have to keep some of my scs in my fort (where they'll be immune to mind hunt simply due to all the other random ungeared commanders located there)

I'll submit my .2h and forward it to all of you now... feel free to look at it and provide constructive critism.


EDIT: drp says it's best to play it safe so one of my scs will be doing nothing except guarding the rout route for his teammates UZIA will remain in 320. I will resubmit without sending the updated .2h to you guys


Similar topics
---
Permissions in this forum:
You
cannot
reply to topics in this forum