I now can equip one unit with cr100 and reinvig 8 and ~30-34prot and 22-26mr 57hp 7regen+luck or so after self buffs (without shield or helm)... I now own 2earth adons.... (one in my capital one heading to my capital to refit)
a random event destoryed the gold atul sent me.... sorry
not sure which provinces I should counter attack currently... feel free to make lots of suggestions!
I definitely feel there are a lot of juicy targets to obliterate with scs .. the enemy has 700-1500chaff grade troops within mapmove3 of my capital now
drp feel free to post your email and i'll send you the .trn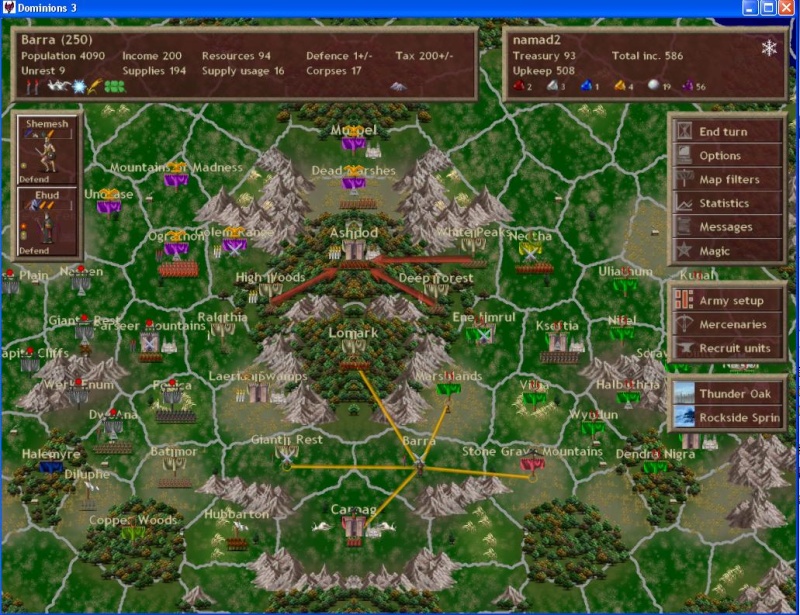 I am sorry I forgot to sneak a scout into the fort to burn down the lab... I'll make sure to send a scout west for that purpose

If it was possible I could save the fort and burn the lab next turn... but I don't think I am in position to try, feel free to suggest otherwise
as far as forging.. maybe birch boots and rime haubreks are a waste of gems when all I might really need is ring of frost?
I'm not meeting much of an opposition here.
Abysia got one province of mine, losing most of his Shamblers in the process again. Repelled one small Caelum Mammoth army trying to reclaim a province I took, the worst is Jotunheim guys raiding with werewolf for Skrattis equipped with Visions Foe.
I'm researching Thunder Strike this turn to kill the Jotun raiders. I also found Caelum's Silver Order province, would like to know how much it would take to take that province. I've got few sets of brand/shield combo, after all... Worth of a try, do you think? I could then Gateway 60 Einheres in there as the province has a lab.
Also, some of my Jarls are stranded in Pyth lands, trying to find a place to form a beachead. A bit too much PD everywhere, though. :/

Oh, and my Pretender wakes up in 2 turns. Yay.
Silver Order are A2 S2 and a FAES random. I think its doable with 100% lightning resistance equipped or scripted. Do you know what other paths Caelum has researched? Paralyze and Mind Burn are the other two spells you'd have to look out for.
Any of the three massive chaff armies on my eastern border would make a promising target.
That's Pangaea (minimal E/N magic support) in 243/Dendra Nigra
Agartha (with moderate E/F magic support, seemingly no D) in 222/Cerne.
And Abysia (lots of F magic support, no surprise) in 193/Cythia.
My western Army is going to siege Ulm's fort at 181/Amiridon.
i'm referring mostly to commanders who can't fly or teleport... you should give me your email so i can send you the .trn
?
Does anyone have any opinions about how I should equip my scs? Should the tandem in 250 return home? Or should I have scouts meet up with them to remove their gear? Currently I am planning to return them home but it is also valid to keep them in the field. If they avoid ice pebble staves they can be effective (the enemy has many ice pebble staves hence why they are headed home to retrofit).
I am sending a single earth adon east this turn with frost brand dragon helm birch boots luck pendant bracer of protection antimagic amulet. He should self buff to 10reinvig 7regen 57hp 32-35prot and 25or26mr with luck cr100fr100pr50.
I could instead remove the birch boots and have 8reinvig cr50 and flying or 13reinvig cr50 (usage of boots of messanger) or I could have the fellow wear no helm or no boots... there are an endless number of options... he could also wait for a partner to equip and go with him...
I have a bunch of other gear just not of the cr variety yet (anyone who wants to inventory what I already have for the purpose of requesting it be sent to them or for the purpose of determining what to send to me either has my .trn file or can request it).
I recommend making me more cr gear as I mentioned two rings of frost might be useful due to their low cost and additionally lucky coin's or faithfuls would be good companions for fire adons ...
Fire adons will probably be best off with:
a) brand/offhandluckitem/rimehaubrek/bootsofmessanger/two bracers of protection/antimagic amulet or
b) less gems frostbrand/offhandluckitem/noarmor/birchboots/twobracers/antimagic amulet or
c) drop some protection or mr for a luck pendant as i can make luck pendants myself and they cost less gems
Inventory of chasis:
In total there are:
Adons: 6fire adons 2earth adons 1astral adon (additionally to that: 1old age hero earth adon, and 1astral blind adon)
Tamari elder: three astral one earth (e3f1)
Zamzumites: 7 in total 2of which have d3e1 2of which have e2d2 two of which have e1s1d2 and one of which has e1f1d2
All of the above units have over 30hp and are sacred which makes them reasonable candidates for using gear.
There are also 7research sages (mostly nonastral as the astral ones died in battle as buffers)
Given how close I am to dying and how low we are on gems I think it might be reasonable to only ever attempt to gear the adon's
All but three of the listed units will be in my capital as of next turn (two of them will be on their way home to retrofit and one will have just left the docks headed for pangaea)


Similar topics
---
Permissions in this forum:
You
cannot
reply to topics in this forum